Invisible Cities Network
Showcasing writers, self-publishers, musicians and artists since 2001
Author: Christina - Published At: 2011-05-19 13:51 - (3055 Reads)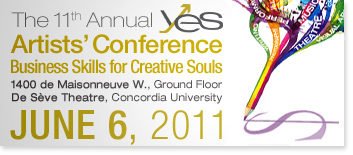 11th Annual YES Artists' Conference:
Business Skills for Creative Souls
A day of inspiration and information for artist-entrepreneurs from all artistic disciplines
Monday, June 6 • 9AM – 5PM
1400 de Maisonneuve W., Ground Floor
De Sève Theatre, Concordia University
Cost: $30 Regular Registration
http://www.yesmontreal.ca
BUSINESS SKILLS FOR CREATIVE SOULS
Creativity, talent and a desire for self-expression are essential to being an artist, but making a living and developing professionally as an artist also requires commitment, business skills and a strategic approach. Building a successful artistic career is as competitive and challenging as starting a profession or launching a business, so in order to make your mark, it is important to distinguish yourself not only through your work, but also through entrepreneurial efforts. This conference will help you develop the tools you need to succeed.
AGENDA
9:00 AM Registration
9:30 AM Opening/Welcome
9:45 AM KEYNOTE PRESENTATION:
KEYNOTE SPEAKER
Steve Galluccio, Screenwriter & Playwright. Steve Galluccio started his career in the Montreal underground theatre scene in 1990. He burst into the mainstream with Mambo Italiano, one of the most successful plays in Canadian theatre history. The play was turned into a movie which became an international hit, sold in more than 53 countries including the United States. Galluccio followed Mambo Italiano with the Gemini award winning television series Ciao Bella. Ciao Bella was also broadcast in Europe and the United States.
Galluccio's second feature film, Surviving My Mother, won the audience favourite award at the Montreal Film Festival, and was featured in many prestigious film festivals all over the world. Galluccio's third feature, the bilingual Funkytown opened in January 2011, and grossed over 1.5 million dollars. In Piazza San Domenico, Galluccio's ninth play, was the number one comedy in Montreal in the fall of 2009, selling out most of its extended run. The play will be performed in Germany in 2011. In his first production venture, Galluccio purchased the rights to the broadway hit 39 Steps. The play will be produced in French in Montreal in 2012. Steve is also working on a book: Montréal à la Galluccio which will feature his favourite places to hang out in his beloved hometown of Montreal.
10:30 AM PRESENTATION: Alternative Fundraising
Earning a living as an artist requires a multilateral approach. In addition to selling work/services and seeking grant opportunities, artists can employ creative fundraising strategies such as participative micro-support, sponsorships, partnerships, membership initiatives, events and others. Presented by: Jane Needles – Executive Director, Quebec Drama Federation
11:30 AM Morning Break
11:45 AM PRESENTATION: Social Media & Marketing
In today's fast-paced society, social media has become one of the most accessible and powerful marketing tools for artists and business people alike. This workshop will cover essential tools and strategies to help you optimize your on-line presence and achieve greater visibility as an artist. Presented by: Aleece Germano – President & Founder, The S.W.A.P. Team
12:45 PM NETWORKING LUNCH (Atrium)
Networking is a fundamental career and business development activity that all artists must undertake in order to build their contact lists and community connections. This interactive lunch-time session will give you a chance to learn and practice your networking skills in a fun-filled and informal atmosphere. Animated by: Monika Majewski – Artists' Program Coordinator, YES Montreal
2:15 PM PRESENTATION: Media Relations
Cultivating a strong relationship with the media is imperative to developing and maintaining your visibility and artistic credibility. Get the inside scoop from industry experts on the necessary tools and techniques you need to maximize your chances of getting media coverage. Presented by: Carolyn Flower – Owner, Agence Flower Communications Agency. Jamie O'Meara – Former Editor-in-Chief, Hour Magazine
3:15 PM YES Montreal Artistic Project Plan Contest
Announcement of contest winners (1st, 2nd and 3rd place)
3:30 PM PANEL DISCUSSION:
Creation and Inspiration – How They Made It! A candid interactive discussion with local artists who have succeeded in their fields. Moderated by: Andy Nulman – President, Festivals & Television, Just For Laughs.
Featuring:
Paul Cargnello – Musician & Songwriter
Bettina Forget – Gallery Owner & Visual Artist, Atelier Bettina Forget
Johanna Nutter – Actor, Writer & Artistic Director, Freestanding Productions
Roger Sinha – Artistic Director, Choreographer & General Manager, Sinha Danse
Sarah Spring – President, Parabola Films
Carmine Starnino – Writer & Senior Editor, Reader's Digest
4:45 PM Closing Remarks
5:00 PM Networking Event hosted by the English-Language Arts Network
(Location to be announced)
Cost:
$30 Regular Registration
(An animated and interactive networking session will take place during the lunch break. You can choose one to add $15 to your registration fee to have YES pre-order a boxed lunch for you. (meat option & vegetarian option) or, you can supply your own bag lunch for the networking session. *Please note: You will not be able to purchase a YES boxed lunch onsite.
YES Montreal (Youth Employment Services)
666 Sherbrooke Street West, Suite 700
Montreal, Quebec H3A 1E7
Office: (514) 878-9788 Ext. 303
Fax: (514) 878-9950
http://www.yesmontreal.ca