Invisible Cities Network
Showcasing writers, self-publishers, musicians and artists since 2001
Author: Christina - Published At: 2008-11-17 09:48 - (6373 Reads)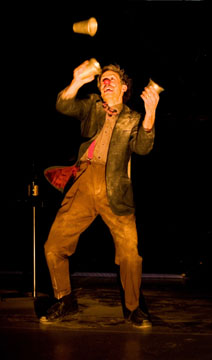 Continental Drift Theatre, 8 SHOWS ONLY!!!
The Diminticato Family Circus comes to The Segal Centre for the Performing Arts
Ladies and gentlemen, step right up! The Diminticato Family Circus has finally come to Montreal! The family that defies gravity and spits in sanity's eye, the family that stole the ring from the Ringlings and tore Bailey a new Barnum. The family that easily performs feats of derring-do and feats of daring don't. Ladies and Gentlemen..It's the Diminticato Family Circus! Let them bring you to the brink of disbelief and back again...!
For tickets call the Segal Centre box office (514) 739-7944
http://www.segalcentre.org
For more information, please visit out website:
http://www.continentaldrifttheatre.com
TICKETS
$18 adults, $15 for students, seniors, and under 30
$8 for children under 12 (Group rates available)
WHAT: The Diminticato Family Circus performs live in Montreal.
WHEN: Thursday November 27th – Sunday December 6th 2008
No shows on Fridays
WHERE: The Studio at the Segal Centre for the Performing Arts, 5170 Côte-Ste-Catherine, Montréal, Quebec
Montreal's own Continental Drift Theatre is proud to present Abe, Eva and their son, Carlos, in The Diminticato Family Circus. Featuring consummate entertainers, musicians, jugglers and acrobats, the Diminticato Family Circus is a family vaudeville circus in the traditional sense. However, it also goes far beyond the confines of vaudeville, and works on several levels to delight you with a profound meditation on the meaning of the family circle and the family circus.
In this show, spectators can expect to witness juggling, acrobatics, roue Cyr, live music and clown, all seamlessly interwoven into a sublime narrative arc. A show for adults that children will thoroughly enjoy, both comic and poetic, the show invokes the precarious balance of familial relationships and loyalties through the circus disciplines it employs. It is a meditation on the power and vicissitudes of romantic and familial love, and an invitation to succumb to the collective imagination, allowing ourselves to find life and love in the sometimes forgotten spaces between fantasy and reality.
Show dates and Times:
Wednesday November 26 (press preview) 8:30pm
Thursday November 27 8:30pm
Saturday November 29 8:30pm
Sunday November 30 3:00pm (matinee); 8:30pm
Wednesday December 3 8:30pm
Thursday December 4 8:30pm
Saturday December 6 8:30pm
Sunday December 7 3:00pm (matinee)
Please Note: No shows on Fridays
CONTINENTAL DRIFT THEATRE is a new circus-theatre company in Montreal.
Its members are graduates of the Dell'Arte School for Physical Theatre in California. This intensive training focuses on the actor-creator and the development of devised work for the theatre. With a shared background in circus, theatre, performance art, dance, and clown theatre, the members of Continental Drift Theatre bring a poetic and energetic vision to the unique brand of circus-theatre they create. Along with their work in Canada, Continental Drift Theatre has performed at numerous festivals in Europe, and been responsible for community circus initiatives in the United States.
Continental Drift Theatre is pleased to be making their Montreal full-length debut at the Segal Centre for the Performing Arts.
The Diminticato Family Circus Artistic Team
Chris Beaulieu Director
Coire Langham Creator and performer
Jacob Langham Performer
Taliesin McEnaney Creator and performer
Anna Leventhal Script writer
Leigh Gillam Set and costume designer
Brendan Nearey Lighting designer and technical director
The creation of The Diminticato Family Circus has been made possible by a grant from The Conseil des Arts et des Lettres de Quebec.
About the Artists:
COIRE LANGHAM has been in the ring from an early age. As a member of the founding family of the Green Light Circus, Alaska's only indigenous circus, he has been performing with his parents, brothers and sister since the age of 8. As a teenager, he joined the New Old Time Chautauqua Circus, juggling alongside the Flying Karamazov brothers and touring throughout the Northwest U.S. From his studies in life, as well as at the Dell'Arte School of Physical Theatre in California, he incorporated a profound understanding of clowning and physical comedy into his already impressive repertoire of skills. He has performed in streets and theatres in the U.S, Mexico, Canada, Alaska, France, and Italy, including the Olympic pavilion and closing ceremonies of the 2006 Paralympics and Winter Olympics Games in Torino, Italy. With Continental Drift Theatre he has produced, directed, and performed in the Slip, Trip and Spit Circus, the Bon Voyage Show, and CirqueNoir, all presented in the U.S.
JACOB LANGHAM has been in the ring from an even earlier age. Due to an unfortunate accident while he was tottering along the ring curbs as a baby, he has elected to stay in the relative safety of the spotlight. Since then he has excelled at juggling, acrobatics, and taming his flea circus. When he is not doing circus he enjoys reading and playing with his two gerbils Tugger and Iceman.
TALIESIN McENANEY - A versatile performer and creator, Taliesin works as a theatre and circus artist, as well as a teacher and director. Her theatrical pieces have been presented at festivals in Canada, namely as a fixture at Studio 303's Edgy Women series, as well as in the U.S, and Italy. She has also worked as assistant director at the revered Théâtre du Peuple in France on their production of Ubu Roi. In 2005 she graduated from the Dell'Arte School of Physical Theatre. With Continental Drift theatre, she has produced, directed, and performed in the Slip, Trip and Spit Circus, the Bon Voyage Show, and CirqueNoir, all presented in the U.S. In Montreal, she teaches circus skills at the Segal Centre Academy. Most recently she was seen in the Segal Centre's remount of Houdini for the Montreal Jazz Festival, as well as in Le Monde de Victor, at the Just for Laughs Festival 2008.
ANNA LEVENTHAL is a writer and occasional performing artist living in Montreal. Her writing has appeared in Geist, Matrix, Shameless, and the anthologies The Art of Trespassing (Invisible Publishing) and The Journey Stories 20 (McClelland & Stewart). She has collaborated with Taliesin McEnaney on original pieces that have been performed at festivals including Edgy Women (Montreal), Performance Mix (New York), Hysteria (Toronto) and Look At Me Don't Look At Me (San Francisco). Her solo work Lonely the Only was commissioned by Miriam Ginestier and performed as part of the P'tit Vites program at Edgy Women 2007. She is currently working on an experimental radio documentary about storytelling, and a karaoke musical.
CHRISTOPHER BEAULIEU is an Actor/Director/Fight Choreographer/Teacher with over 15 years experience teaching and directing students in various areas of theater. Co-founder of the physical theatre company Creatively Independent, Chris tours 250+ days/year performing and teaching the performing arts. He recently finished the prestigious Physical Theatre Program at Dell Arte International School of Physical Theatre. Chris has been a long-term director/dramaturge for the nationally recognized Williamstown Theatre Festival's Greylock Project. Chris is an accredited Advanced Actor/Combatant in 7 weapons with the Society of American Fight Directors. Chris has also taught and directed workshops in playwrighting & creative writing for Living Inside/Art in the Jail project. Recently, Chris was assistant director to Dell'Arte's Artistic Director, Michael Fields on the original production of The Hunting of the Snark, as well as producer and performer in The Greatest Story Never Told, also presented at Dell'Arte.
For more information, please visit out website:
http://www.continentaldrifttheatre.com
or Contact:
Taliesin McEnaney
514-528-8193
info at continentaldrifttheatre.com